---
The World's Largest Semiconductor Professional Technology Exhibition-SEMICON China
---
Shenzhen MicroASM Semiconductor Technology Co., Ltd. focuses on the R & D, design, assembly and sales of high-performance sticky equipment, and focuses on the development of high-speed, high-precision
  About Us
  Shenzhen MicroASM Semiconductor Technology Co., Ltd. focuses on the R & D, design, assembly and sales of high-performance sticky equipment, and focuses on the development of high-speed, high-precision, multi-functional, fully automatic semiconductor packaging equipment. The main fields involved are IC integrated circuit packaging, M LED / Mini LED packaging, high-speed optical module assembly, RF device, microwave device, MEMS sensor and other device packaging, and medical CT detector assembly. High-precision motion control technology, leading machine vision technology and flexible software algorithms are our core competitiveness. We are proficient in rich semiconductor packaging technology, and the equipment can assemble various process modules, such as high-precision dispensing modules, UV light curing modules, eutectic bonding modules, laser heating modules, ultrasonic heating modules, friction welding modules, Laser ranging module, hot nitrogen protection module, real-time monitoring module, automatic nozzle switching function module, Wafer & Tray feeding module, etc. The equipment system can interface with the workshop management system, record the placement process of each device in real time, and can check the production status of the equipment at any time. At the same time, the placement compensation parameters can be adjusted according to the dynamic data to optimize the equipment use. We are committed to providing customers with a series of semiconductor device packaging solutions, providing customers with better products and services and continuously creating new value. So far, we have established strategic partnerships with industry leaders such as General Medical, Institute of Microelectronics, Chinese Academy of Sciences, Second Academy of Aerospace Science and Technology, Third Academy, BOE, Shennan Circuit, Tsinghua University, Southern University of Science and Technology, National University of Defense Technology, etc. Relationship, we have a strong after-sales team that can provide customers with faster and better services at any time.
  Our company sells the following self-developed cutting-edge process equipment:
MicroASM MicroASM AMS Flip Bonder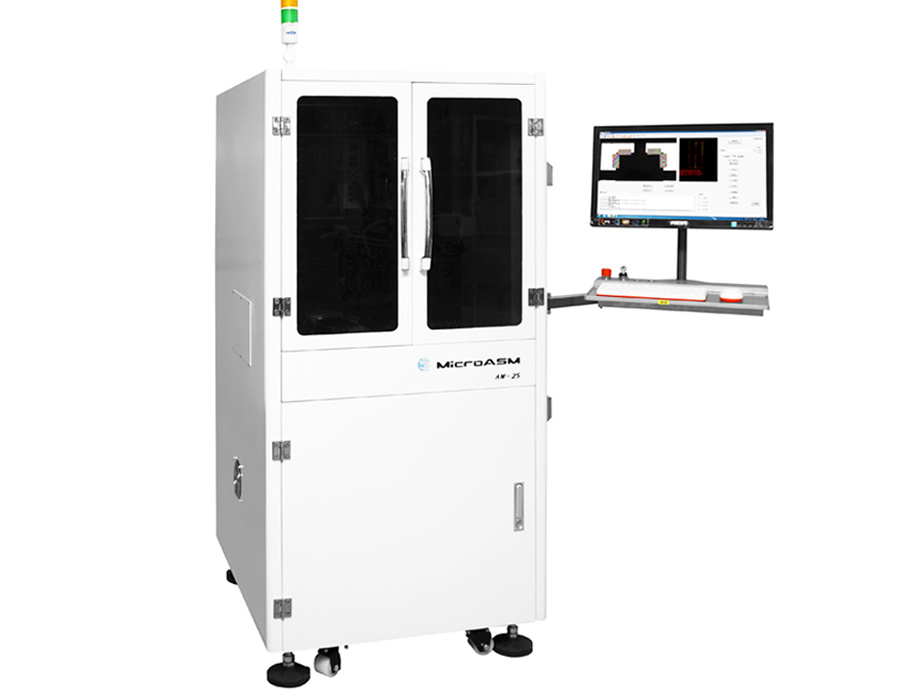 Application areas: MEMS packaging, flip-chip bonding, front-chip bonding
Wafer level package Optical module package Sensor package Mini LED placement
  MicroASM AMX full-function sticky machine
  Application areas: Micro LED, miniLED array chip patch,
Micro optical chip, display chip package
· Metric 03015, 008004 devices on next generation mobile phones
· Large Medical Equipment (Core Imaging Module Assembly)
· Optical devices (laser LD palladium assembly, VCSEL, PD, LENS assembly, etc.)
· Semiconductors (MEMS devices, RF devices, microwave devices and hybrid circuits)
· Silicon chip, GaAs chip, bulk silicon device, AlGaInN, etc.
  MicroASM M-S manual-semi-automatic micro-assembly system
  The M-S platform is a manual-semi-automatic micro-assembly system. Can be matched with nozzle heating module, laser heating module, UV dispensing and curing module, hot nitrogen protective gas module, substrate preheating module, process monitoring module, and flip chip soldering module.
This series of products has stable performance, high cost performance, and easy operation. It is especially suitable for scientific research institutes and university laboratories that do not require high production efficiency and high accuracy requirements.
Applications: MEMS packaging, flip-chip bonding, front-chip bonding
Wafer level package Optical module package Sensor package Mini LED placement